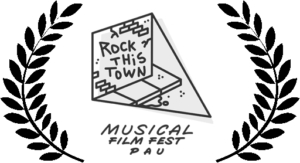 NEXT EDITION / 17e EDITION
FROM APRIL 27 to May 5, 2024
TO SUBMIT YOUR FILM : https://filmfreeway.com/RockThisTownFestivalPau
ROCK THIS TOWN – AN INTERNATIONAL PULSE
Rock This Town is the international music film festival taking place in the city of Pau and the cinema Le Méliès. Ever since 2007, Rock This Town has been a cinematic pulse in the heart of the south-west of France, near the Pyrenees, an annual festival at the crossroads of world cultures and territories as well as artistic forms (cinema, concerts, film-concerts, exhibitions, literatures) bringing together more than 20 cultural partners from the city of Pau.
This festival proposes a selection of movies (documentaries, fictions, shorts and features) defined by their relationship with music (whether jazz, classical, rock, reggae, punk, experimental, Latino, rap) so that they dialogue and square with it. Through music and the eye of the camera, artist's views and works are questioned, but also societies, ways of life, ideologies, History, struggles, dreams, utopias and revolutions…
This big screen score takes place at the end of April over 10 days and is punctuated by screenings of movies OUT OF COMPETITION and movies IN COMPETITION to win the ROCK THIS TOWN JURY award.
Among those screenings, some are FRENCH PREMIERES.
The festival is marked by MEETINGS with international artists, critics, journalists. By HIGHLIGHTS (record fair at the Halle of Billère, international jazz day…), and screenings of CULT movies.
Rock This Town nurtures its YOUNG AUDIENCE with the choosing of a music film and a film-concert.
The festival organizes a PROFESSIONAL DAY in partnership with CINA (Independent Cinemas from Nouvelle-Aquitaine).
Since 2022, Rock This Town has joined the MFFN network (Music Film Festival Network) whose main goals are to promote emerging authors and under-represented cinematography, to defend the distribution of musical works and to make the job easier for the producers and distributors to meet, it contributes to the exchange of skills and supports the organisations of emerging music film festivals.