JULIE GAYET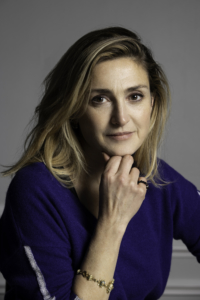 Julie Gayet was fascinated by the show business at a very early age, singing, dramatic comedy, and even circus art. At the age of 17, she went to London to study with Jack Waltzer, a member of the Actor's Studio. But it was Agnes Varda who gave her her first major role in The Hundred and One Nights (Les Cent et Une Nuits de Simon Cinéma). In 1996, she acted in two films, Select Hotel by Laurent Bouhnik and Delphine 1 – Yvan 0 by Dominique Farrugia, two radically different compositions for which she won the Romy Schneider Prize. Praised for her naturalness, Julie Gayet likes to change her look and proceeds from one register to another, between big popular productions (Quai d'Orsay, C'est quoi cette famille?, Poly, Dix pour cent…) and small independent films (Clara et Moi, Un baiser s'il vous plaît, Carré Blanc, Marion 13 ans pour toujours). In 2007 she founded the production and distribution company Rouge International with which she accompanies films such as Grave by Julia Ducournau, L'Insulte by Ziad Doueiri, or Visages Villages by Agnès Varda and JR. Her aim is always to create a link between creators, she founded the "Festival Sœurs Jumelles" in Rochefort in 2020, to bring together the worlds of music and image. At the same time, Julie Gayet is very committed to the defence of women's rights within the Fondation des Femmes. She is a member of the Collectif 50/50 whose mission is to promote equality between men and women in the film industry. On March 8th 2023 she will honour International Women's Rights Day with the publication of a book entitled Ensemble on est plus fortes (Together we are stronger), published by Editions Stock, which pays tribute to the committed women she has met in recent years.
OLIVIER CONAN
Olivier Conan is a producer, programmer, musician and director. Originally from Paris, Conan has lived in New York for a long time, where he began his career in the 1990s at the venerable Town Hall concert hall. In 2002, he opened the Barbès Hall, which has been programming for almost twenty years, among other things, world music, jazz, classical music and Americana,. He launched Barbès Records in 2004. The label gained international recognition with a series of Peruvian Chicha compilations. The Roots of Chicha compilation series brought the music back to the forefront – particularly in Latin America – and attracted champions such as actor Elijah Wood, British rock star Alex Kapranos and director Almodovar, who used one of the tracks in the credits of his film Les Amants Passagers. Olivier Conan also works as a music supervisor, a musical advisor for film and television. In autumn 2017, he moved to Lyon, where he took over the direction of the Lyon Opera Amphi. Under the label Opéra Underground, he offers an eclectic programme. In 2021, Olivier Conan launched Barbès Production, which mainly offers consulting for festivals, municipalities, collectives and concert halls.
LAETITIA MOLLER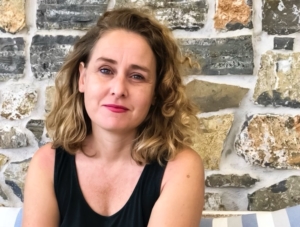 Laetitia Møller is a newspaper journalist and a film director. Her first audiovisual productions -Viol, les voix du silence, a web documentary for France Télévision and Le Mythe du pervers narcissique, broadcasted on Planète, decipher the mechanisms of power and the beliefs of our society. In 2014, she won the Infracourts competition with her short film Les Dames de Dosne. L'Energie positive des dieux is her first creative documentary, the result of her encounter with Astéréotypie, a rock band on the border of outsider art and punk.
ELSA KUHN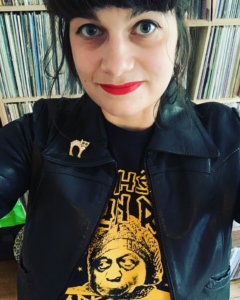 Seamstress and record collector, Elsa Kuhn combined her two passions by creating her project In Felt We Trust. As a teenager, she was passionate about music, collecting records, devouring the 90's music press and creating fanzines with her friends. Sewing came long before that: as a child she loved to make dresses for her dolls and to embroider with her grandmother. She then went to fashion school and created a children's fashion brand. The combination of the two came about quite naturally: she started to reproduce the covers of her favourite records with a needle and thread. Combining embroidery and drawing techniques, these reinterpretations of record sleeves are unique pieces made entirely by hand. Part of his work has been gathered in a book published by Le Boulon at the end of 2022.
ROMAIN BAUDOIN

Romain Baudoin has an identity, an unabashed artistic vision and stands by it. He is a discoverer of sound materials, a composer of unpopular music, his work oscillates between music of Gascon heritage and amplified music. The hurdy-gurdy is his favourite instrument, and he works as much on contemporary and electro-acoustic forms as on the primitive and acoustic forms of this instrument, which is over 1,000 years old. Improvisation allows him to rediscover things through experience in order to re-appropriate and transcend them.